Ensure Business Continuity with The Smart Automatic Mains Failure
Denyo leads the portable power industry with game-changing SmartAMF that allows customisations and intelligent controls of your standby generator. Unlike conventional AMF panels, the SmartAMF control system is integrated into our generator canopy to offer optimal space efficiency with the same reliability of the Denyo generator.
Denyo SmartAMF is compatible with:
Automatic Power Changeover During Mains Power Failure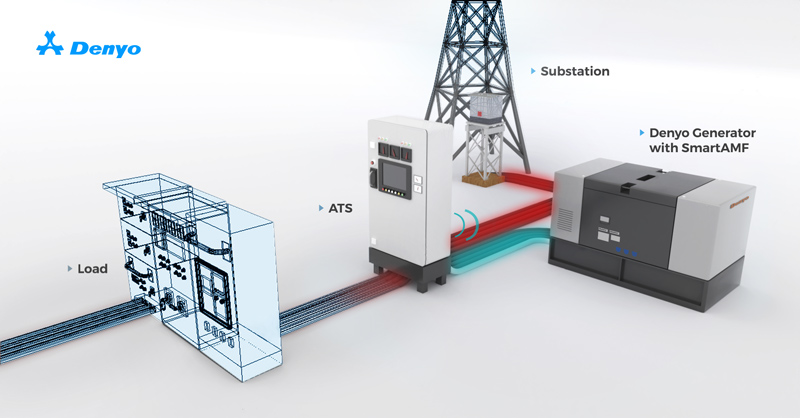 ATS panel detect the mains power failure and send signal to Denyo SmartAMF in the standby power generator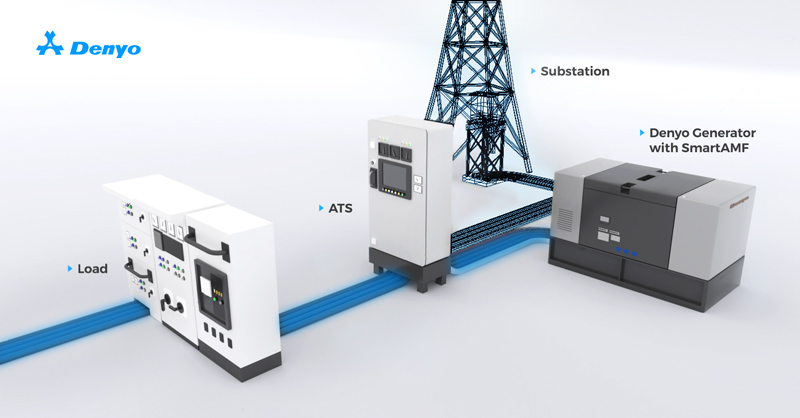 Denyo SmartAMF detects sensing voltage from ATS panel and initiate start on the standby power generator to support load
Auto Start & Stop Command
Upon mains power failure, SmartAMF send signal to the generator to start and support the load. After power restoration from the electricity grid, generator will reset automatically to cooling mode and to a complete stop for ultimate fuel saving.
Customisable PLC Algorithm
The SmartAMF can be configured with a series of PLC interfaces to meet your every application needs, and ensuring all automation in the generator can be carried out with utmost safety.
Real-time Diagnostics
Real-time generator data are readily accessible via the built-on digital based controller. Data can be downloaded and analysed advantageously for report and troubleshooting purposes.
Quality & Product Assurance
The entire integration undergoes a series of rigorous testing before delivering for usage. With exceptional track records, our SmartAMF is covered under the Product and Advertising Liability Insurance, so you know you are in good hands of Denyo.
Discover the future of generator technology with Smart Power Remote Monitoring.
Experience Smart Power Remote Monitoring before it's available to the public by signing up now. You'll get insider preview of the product, new updates, and more.