At
Denyo
Every staff is treated fairly and with respect, rewarded based on merit, and given equal opportunities to optimise their talent.
We are proud to be a workplace that advocates fair employment practices.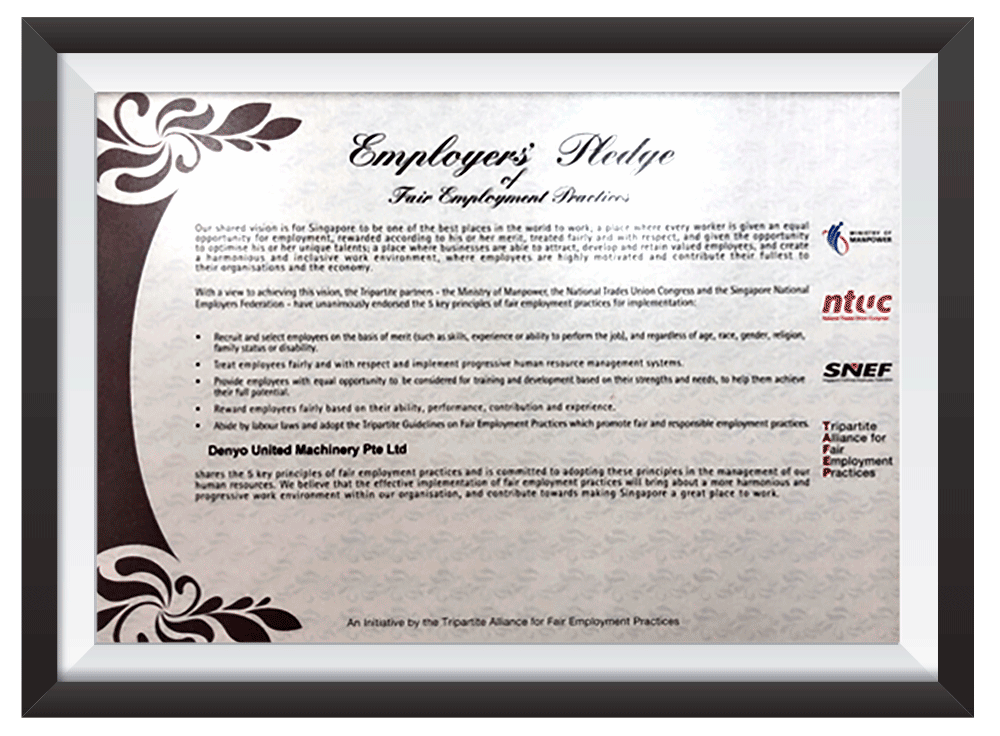 Available Positions
Electrical Sales Engineer
Job Responsibilities
Plan personal sales activities and contact with customers and prospects.
Develop new customers and maintain existing customer base with good after-sales service to existing customers (through dealer).
Accountable for analysis of customer's needs, developing solutions and creating proposals (review customer's requirements, provide technical modification/ solutions, assistance, clarification, applications engineering and drawings support).
Provide training and technical materials for sales team.
Develop and identify complementary business opportunities.
Address and communicate technical issues internally and externally.
To comply with the ISO standard, policies and procedures of the Company at all times.
Perform other duties as and when assigned.
Requirements:
Knowledge in Electrical, Electronic and Power Generation.
Meticulous, independent and self-motivated.
Confident team player with good communication skills.
Diploma in Electrical Engineering or equivalent, preferably with 3 to 5 years of relevant experience.
Able to travel overseas.
Possess own car will be an added advantage.
Other Information:
5-day work week.
Company transport provided at designated MRT stations.
Singaporean may apply.
Service Technician
Job Responsibilities
Assist the Service Manager/Service Supervisor to co-ordinate, schedule, plan and supervise service activities and to ensure smooth operation with regard to staff deployment and technical matters.
Co-ordinate with respective departments for installation, modification, overhauling and repair works.
Attend to customers' complaints promptly and maintain close liaison and rapport with them, so as to provide and maintain excellent standard of service and also to ensure products are continually innovated to meet customers' needs at all times.
Carry out receiving/loading for delivery of equipment, basic servicing in accordance to Delivery Instructions, such as changing of engine oil, fuel and air filter, cleaning/washing of machinery/equipment.
Issue Work Order for equipment that is sent in for repair by customers.
Assist and organize the preparation of all service-related documents such as quotation, invoices, delivery orders, proforma invoices, report, and parts transfer forms.
To assist the Service Supervisor in all workshop operations.
Perform other duties as assigned from time to time.
Requirements:
Minimum NTC-3, NITEC in Electrical Engineering.
Meticulous, independent & self-motivated.
Preferably relevant experience in heavy duty diesel engine or generator.
Possess Class 3 & forklift license will be an added advantage.
Other Information:
5-day work week.
Company transport provided at designated MRT stations.
Singaporean may apply.